| September 21st, 2008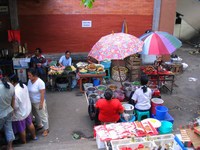 The majority of visitors to Bali simply adore going to the markets because of the great shopping bargains, the enjoyment of walking around the stalls seeing almost the same product in each stall, getting hassled by stall-owners to but their goods, and in general, the sheer delight in bargaining the price of the product you want to buy whether it be a sarung or one of those trashy 'Fuck the Terrorists' T-Shirts or even a bedspread. The list goes on. In Kuta, everybody heads down to the Kuta Art Market albeit smaller now after Kuta Square was built and in doing so reduced the once large market into a few alleyways of choc-a-bloc terror, a nightmare for those first timers to Bali. The crowded and dusty-dry market in Denpasar is not everyone's cup of tea, but it is all part of the joy of market mania.
There are literally thousands of markets on the island of Bali, some are mainly local traditional markets where food produce is sold and others like the two-storey market in Sukawati, the ominous looking Kumbusari market in Denpasar or the Pasar Badung, and of course my all-time favourite, Pasar Ubud. Everybody has their own special market where they 'know a few people' and where they can get a 'good price', but it is the sheer vibrancy and colour of these markets as well as the stall owners themselves that make a trip to any market enjoyable. Here are just a few of those vibrant colours, the array of merchandise and what makes visiting a market on your next trip to Bali a must-see destination.