| January 19th, 2007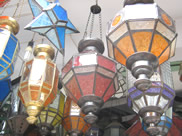 Suka Asih Art Shop in Seminyak, is situated on Jl. Seminyak, close to the corner of Jl. Dhyana Pura. Its is highly noticeable, because of the array of glass lamps on display. Three year ago I bought some lamps there, and the staff still remember me. Looking around, its like an Aladdin's cave of ethnic statues, Buddha's, figurines, lamps and gongs. At my house, I had my brother-in-law wire up the lamps hanging either side of the front door, and another couple in the garden. Its a great solution to a dark garden and wasn't overly expensive.
A small lamp (12 inches) of good quality, is 65,000rp. A medium lamp (18 inches), with clear glass, is 75,000rp. An extra large lamp (2ft tall, 1ft diameter), is 185,000rp. A set of 2 carved Balinese statues (male and female figures), about 4ft tall, are 350,000rp. A 2ft diameter gong, complete with rack, is 400,000rp. A 4ft diameter gong, with rack is 650,000rp. Wholesale prices can be arranged.
Suka Asih Art Shop is open from 10am-8pm
Suka Asih Art Shop
Jl. Seminyak
Seminyak
Bali
(0361)732831