| January 19th, 2007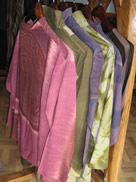 Neko is a clothes shop located on Jl. Seminyak, close to Jl. Dhyana Pura. When I visited the staff was busy dusting, so I snapped a few of the colorful shirts and pants, asking prices. Men's & women clothing is made with linen, cotton and rayon. A men's shirt is 95,000rp to 135,000rp. A women's dress is 156,000rp and pants are 99,000rp, a long rectangular, thin sarong, is 15,000rp. Wholesale prices are possible also.
The style of the clothing is definitely geared towards people who don't mind getting funky. The colors used, purple, pink, bright green, blue etc and the cut of the clothes, demands attention. You wouldn't wear this style of clothing if you wanted to be inconspicuous. Well maybe if you were among a group of Seminyak expats, no one would notice, but otherwise, you'd get attention.
Neko is open daily from 9am-9pm
Neko
Jl. Seminyak
Seminyak
Bali
081337387719