| January 15th, 2007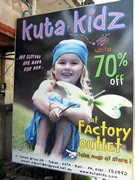 Kuta Kidz is a cute little shop on Jl. Singosari (although the business card says Jl. Taman Griya). It sells modern clothing for kids aged from 1 to 12 years. When I stopped by, the shop was quiet, and the staff member was eager to show me various items. The clothing appeared to be of a good quality and marketing it as a brand is a good idea. The company website gives a more thorough rundown of the goods on offer. I was tempted to pick up something for Jevon, but he has enough clothes and I'm not sure exactly how he compares with the age-sizing in this shop.
Kuta Kidz is open daily from 8am-10pm. Kids t-shirts are 70,000rp, tank tops are 58,500rp, khaki shorts are 80,500rp, a hooded sweater is 95,000rp, girl's bags are 58,500rp.
Kuta Kids
Jl. Taman Griya #2G
Tuban
Bali
(0361)753992