| January 11th, 2007
Anytime I go to Nusa Dua, I get a strange feeling I have transported to Beverly Hills. All of a sudden Balinese locals disappear and manicured grass verges replace the broken sidewalks. At the southern end of Jimbaran sit the Intercontinental and Four Seasons hotels. They've picked the choice part of the Bay no doubt. The beach is nicer, there are no fishing boats, and you can see the tracks left in the sand, by the people who rake the high-tide line in the morning. From the beach looking inland, you can see how they have created their version of the tropical fantasy, complete with nice stone work, beach-side bales and thatched Balinese roofs. I spotted a couple, enjoying themselves in a sea kayak and others in a small 'lazer' sailing boat.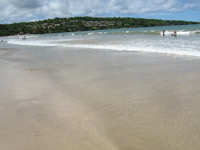 Families splashed around enjoying the small surf today, with no beach vendors spoiling their time. You can swim and sunbathe in front of the Intercontinental and Four Seasons, but cannot head around the point, through their grounds. I asked a member of staff who told me to proceed, before getting turned around by a security guard who said I couldn't. No worries, by all accounts the Four Seasons Jimbaran Bay is a world class hotel, and a total choice place to stay. The great thing about Jimbaran Bay, is that you have a large sweeping bay, with a yellow (white) sand beach, reasonably clear water and no beach vendors. Seafood warungs occur all the way from the north to the south, in patches. Jimbaran Bay doesn't get huge surf, so is safer to swim on than Kuta Beach. If you have the cash, a few nights at the Intercontinental, or Four Seasons Jimbaran Bay, are likely to be some of the most idyllic, you've ever spent. Don't worry about the expense, just put it on Mr. Underhill's credit card.