| February 1st, 2007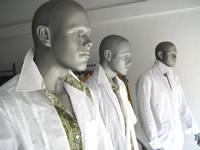 Dejong is a small men's clothes shop on Jl. Dhyana Pura in Seminyak. Let's clarify that, its not a shop for small men, but a small shop selling men's clothing. Passing by the you'll notice the 3 manekins in the window sporting 'Seminyak expat wear', white shirts and pants. The staff allowed me to snap a few photos and check the prices. The range of items on sale is limited, but if you're new to Bali, and are heading out into the party scene, this place might be good to check out.

Dejong is open from 10am-1am Fri & Sat, 10am-12am Sun-Thurs. In stock are casual items and party shirts. Prices include t-shirt with collar for 210,000rp, military style t-shirt with collar for 198,000rp, jeans for 495,000rp, long sleeve white shirts with collar for 310,000rp, colored long sleeve shirt with collar for 295,000rp, camouflage shorts for 259,000rp.
Dejong
Jl. Dhyana Pura #10
Seminyak
Bali
(0361)760060