| February 8th, 2007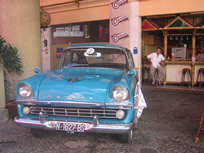 Classic Cafe is located in the Kuta Galeria at the bottom end of the Sunset Rd. The cafe is immediately identifiable because of the classic Holden cars parked outside. I must admit, I never knew Holden ever made these 50′s style cars. Classic Cafe has a food & drinks menu and live music on Friday nights. Some readers may remember an article on the Classic Cafe at Discovery Mall in Tuban. They have the exact same menu, though this branch is way less busy. According to their own flyer "Located in Kuta…in a quiet environment. Feel the difference…All about Classic. Classic cars and Vintage Things Atmosphere." So there you go, that pretty much sums it up. The menu at Classic Cafe consists of standard western and Indonesian favourites. Here is the article from my visit to Classic Cafe Tuban.

Classic Cafe is suitable for meetings, birthday parties, gatherings and promotional events. The restaurant can accommodate 90-100 seated guests downstairs and another 90-100 upstairs. A free wi-fi connection will be available soon.
The daily music program at Classic Cafe is Classic Oldies from the 60′s, 70′s and 80′s, with solo live music nightly. Added to the Friday night rock band, a Classic Jazz Night is planned. Classic Cafe is open daily from 10am-11pm
Classic Cafe Bali
Istana Kuta Galeria
Blok Etnik #6-7-8
Jl. Patih Jelantik
Kuta
Bali
(0361)769167