| February 8th, 2007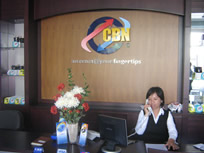 The number of ISP's in Bali is increasing and a new one I came across recently, is CBN, located in the Kuta Galeria. CBN has a smart, ground floor office and when I stopped by the receptionist invited me to take a seat and learn more about the service. CBN serves it's customers by using a similar system to Blueline, which is a fixed antenna mounted on your roof, that connects to a ground line somewhere. No phone line is necessary for this service, although there is a 1m rp aktivasi (activation) and 2m rp instalasi (installation) charge.

A range of bandwidth options are available, starting at 2,750,000rp per month for a dedicated LAN (48 Kbps), up to 88,000,000rp per month for dedicated 2 Mbps).
PT. Cyberindo Aditama (CBN Internet)
Istana Kuta Galeria PM 3/8
Jl. Patih Jelantik
Kuta
Bali
(0361)769425