| January 27th, 2007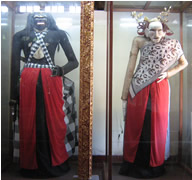 Balinese Agama Hindu is full of wild creations, monsters, demons and manifestations of Gods. One of the exhibits at the Bali Museum is the Barong Landung, which means, 'tall Barong'. These figures are about 7ft tall and a person inside the outfit is able to walk around with it. The Barong Landung is made of plaited bamboo, covered with cloth, fiber and a wooden mask. There is always a male and female, performing together, in an act that helps to exorcise evil spirits.

The male character is Jero Gede, a mythological character from Nusa Penida. He is always black, with fierce eyes and mouth. His female counterpart is Jero Luh, who is always pale faced, with a certain Chinese appearance. You have to admire the effort the Balinese make to keep their mythology lively and interesting.