| July 30th, 2007

Dry season means more tourists, less rain and stronger winds. This afternoon my upstairs window was slamming like a pub door, the pembantu always opens it to let in fresh air and forgets to shut it. I use a coat hanger hooked to the outside of the window grill to hold it in place but she hasn't figured that one out yet. Temperatures this time of year couldn't be better and at night I'm using Mick Turnbull's doona (spelling?). I should explain that Mick gave his handy sized quilt the day he left Bali and that at no time did we ever share it.

Down at the beach in front of Gado Gado at the end of Jl. Dhyana Pura, tourists were enjoying the last rays of the day, lounging on recliners. The whole sunshade / recliner / drink seller scene has grown in the last year in Legian / Seminyak, though is a way more pleasant scene than Kuta Beach. What we're missing here is the tree line at the back of the beach.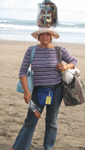 One lady who was balancing a load on her head posed for a photo, then asked if I wanted some beads. Her friend offered a massage but I told her I was 'glee' (ticklish). There are lifeguards around this section of beach and one will notice the red flags placed in 'no swim zones'. The other day I saw a Balinese lifeguard tell a European couple to get out of a certain spot due to the currents. Plenty of Balinese locals around with surfboard rental shops. If you haven't surfed before don't go alone and find a board 2 feet taller than you to start with. Only surf the smaller waves at high tide and down even think about paddling out to the quick-breaking waves at low tide. One of the nice things about the south coast is the tide goes out quite far. One of my friends used to walk from Legian to Tanah Lot everyday along the beach, a varied and changing landscape.