| December 31st, 2006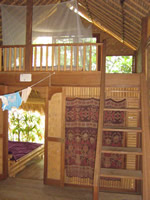 Driving Toby, Maya, Ika & Jevon around East Bali I had to weight up my options as far as accommodation. I like to go cheap when I can and I know Toby was concerned at keeping Maya comfortable, hoping for an AC room. Selang beach, on the Amed coast about 20 minutes south of Amed, offers some okay places. Good Karma Bungalows is a set of bamboo guest houses on the beach. Conditions are simple and include an outside cold water shower, bamboo / alang alang roof, bamboo furniture and a Robinson Crusoe feel. Up on the cliff, Blue Moon Villas, offer several rooms complete with AC, pool and all the extras. We checked out the prices for both. Blue Moon were asking $115 a night, Good Karma, 250,000rp. I got 200,000rp which was okay with me.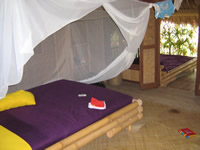 Thoughts on our time at Good Karma: Relaxing place, best suited to the dry season. During the day the whole area had a certain amount of fruit flies, which is just the season. At night we had a few mosquitoes, though nets were provided. During the day the bungalows were hot, at night it cooled off, though for Toby, it was bit hard to get used to. The beach was right there although many boats were parked on it. Snorkeling was possible and the bungalow afforded a decent degree of privacy, being located a short distance from the reception. Breakfast was a fruit plate, tea and a jaffle (toasted sandwich). At night there was no local noise other than a few fishermen getting their boats launched and the sound of the waves.