| January 19th, 2007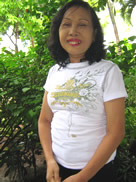 Seminyak is full of colorful characters and today I met another, Agung, owner of Ned's Hideaway on Gang Bima. Agung told me that 15 years ago she had a very good restaurant on Jl. Legian called Ned's, named after her first husband, an Englishman named John Kelly, who everyone called Ned (that's how life works sometimes). Agung's husband passed away and she decided to buy land in Seminyak, to start Ned Hideaway, guest house, restaurant and bar. Her second husband, David from Australia, passed away 4 months ago, after suffering from kidney problems. Agung said he had helped her build up the guest house, but spent too much time at the bar. Agung recently had a stroke, that left her with partial use of her left hand, but she stays optimistic.
Her kids are grown and now she had grandkids. According to her many Balinese men are lazy, and its better to marry a 'bule'. I got a good feeling from Agung, and think her place would be a great place for budget tourists, or backpackers, looking to stay in Seminyak, without breaking the bank.