| January 23rd, 2007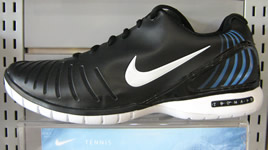 Every town needs a Nike store and the Kuta area has one on Jl. Kartika Plaza, in Tuban. The Nike store is classified as a 'semi-factory outlet', even though there is no merchandise being produced on the premises. The Nike store is a clean looking place, brightly lit and decorated with pictures of sports stars and when I visited, sale signs offering 30%-50% off were all over. Nike makes some good gear, but its overpriced and the prices here in Bali are aimed more at Europeans, Australians and Japanese, than the locals, or Americans.

Nike's Dry Fit material is light and I find it great for the tropics. Being an artificial fabric, its also more durable than cotton, which is actually a heat box in Bali. Checking out the prices, I saw colorful Dry Fit short-sleeve shirts for 295,000rp, slippers for 199,000rp, Zoom Air tennis shoes for 999,000rp, short sleeve cotton t-shirt for 175,000rp, a metal analog Nike watch for 1,429,000rp, socks for 29,000rp, a Barcelona shirt for 425,000rp, a shoulder bag for 320,000rp, a leather soccer ball for 205,000rp, fitness gloves for 95,000rp, Nike baseball hat for 79,000rp, a Cage Vintage basketball for 220,000rp, a computer bag for 200,000rp, ladies short sleeve cotton t-shirt for 100,000rp. Most of the stuff on sale is made in China. Opening hours are 10am-10pm.
Nike Store
Jl. Kartika Plaza (next to Stadium Cafe)
Tuban
Bali