| January 13th, 2007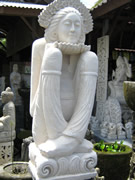 Taking one of the creative routes to Ubud, via a turnoff on Jl. Gatut Subroto, north of Denpasar, you pass through the village of Sukawati. Actually Sukawati seems like an endless line of stonecarving places, lined up along the street, in typical ribbon-development style. One of the many places in Jepun Bali, who' sign says it is a wood / stone carver. Jepun Bali is run by Wayan Sudiana, who chatted to me briefly. Wayan showed me various items he had made, including stone buddhas, intricate wall decoration and coffee tables, statues, and smaller figures. Batubulan, to the SW, is also known for it stone carvings and the subject matter is much the same. Amazing how many skilled craftsmen are living in this tight area, with Celuk, the silver & gold jewelry center, equidistant.
Most of the stone used comes from Java, the lighter colored stuff soft to the touch and able to be scratched with a nail. Amazing how these guys can achieve such detail, out of a block of stone.
Jepun Bali
Br. Silakarang, Singapadu Kaler
Sukawati
Gianyar
Bali
(0361)7822882